I've spent most of my life in kitchens. As a kid my mother would say, "you can't expect a wife to cook for you so you have to learn" and as it turns out I love to be in the kitchen playing with new flavour ideas.
In my teens I learned about cannabis. Like most teenagers I had a bag of shake and stems and decided I'll bake something with this!
So with my love of baking, and my bag of twigs and shake, I decided to make some butter then I made some brownies for my friends and I remember thinking, "this doesn't taste too bad, it actually taste really good!"
Well that thought was quickly replaced with, "oh god I'm way too damn high!"
What started as a fun night turned into me on the floor in a tornado of despair. Not knowing what to do I called my sister (with whom I later opened a restaurant and a bakery). She laughed at me and told me to stop thinking I was going to die, and I just had to ride it out, and not be so stupid. Even though my first attempt was a disaster, the idea of changing my high by eating it and not smoking it was so interesting to me that I figured I would keep trying…
Fast track a few years and I had learned so much more about baking with cannabis.
I learned how to make a very strong
cannabutter
that I could melt and mix into the baking I was making.
I like to use a digital food scale *or cannabis scale* to weigh my cookies so I know how many mg each is. If someone asks me how much they should eat I often say,  "go slow: you can always have more".
Sticky's Best Ever Soft Chocolate Chunk Pot Cookie Recipe
This is the first pot cookie I ever made using cannabutter. Each cookie has 1/4-cup of dough, which isn't unusual for me or for bakery-style cookies. What is unusual is that I bake my cookies at 300ºF for about 22 to 24 minutes rather than the typical 350ºF oven for 12 to 14 minutes. Low and slow creates the chewy exterior and soft interior.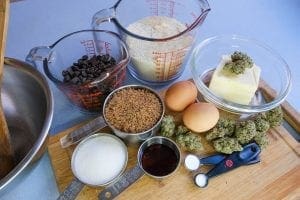 INGREDIENTS
 1 cup dark brown sugar, firmly packed
1/2 cup granulated sugar
1 cup room temperature butter. *minus the amount of coconut cannabis you use * See further instructions below
2 large eggs farm fresh eggs
2 teaspoons pure vanilla extract
2 1/2 cups all-purpose flour
1/2 teaspoon baking soda
1/4 teaspoon salt
1 cup (6 ounces)

 dark chocolate coarsely chopped
Instructions
Preheat oven to 300F.
If using a mixer. Fit with the paddle attachment (or use a large mixing bowl and electric mixer) add the sugars and beat on medium speed until combined, about 1 minute.
Add the butter and mix on medium-high speed to form a grainy paste, about 4 to 5 minutes, scraping down the sides of the bowl as necessary.

This is when you slowly incorporate the melted cannabutter.

An important note about the butter: If you use 1tbsp cannabutter your batch will be about 180 mg of THC and you will use ¾ cup plus 3 tbsp of butter, or 1 cup minus 1 tbsp. room temperature salted butter, cut it into 1/2-inch cubes,(cut each stick into about 16 pieces; if using unsalted butter increase the salt listed below from 1/4 to 1/2 teaspoon).
Add the eggs, vanilla, and beat on medium-low speed until just incorporated, about 1 minute. You don't want the sugar granules to start dissolving so don't over-mix.
In a separate bowl combine the flour, baking soda, salt, and mix with a wire whisk… slowly add this to the wet ingredients for about 30 seconds.
Now slowly add the dark chocolate and continue to mix about 30 seconds.

Line a baking sheet with parchment paper.
Using a well oiled 1/4-cup or your hands, form approximately 6 

equal-sized mounds of dough. 

Place dough mounds on baking sheet, spaced at least 2 inches apart (I bake 6 cookies per sheet).

Bake for about 22 to 24 minutes, or until edges have set and tops are just set, even if slightly undercooked, pale, and glossy in the center; don't over-bake. Rotate the baking sheet midway through baking as insurance that cookies bake evenly as not all ovens cook evenly. Cookies firm up as they cool.
Allow cookies to cool on baking sheet for about 10 minutes before serving. I let them cool on the baking sheet and don't use a rack.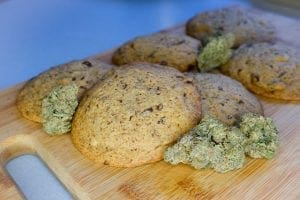 BTW We didn't use cannabutter for this batch of cookies, but we put some
quad grade Thin Mint
next to them for the final photo!
NOTES:
Remember every batch of weed is different… so eat half a cookie to start. This will be about 7mg THC…You can always eat more…and you'll want to